(415) 426-5641
(415) 840-9435
Rachel Abrams is a Partner in the firm's San Francisco office. The majority of her 24-year legal career has focused on personal injury litigation, primarily product liability and pharmaceutical cases. She has spoken at several seminars and conferences and often lectures on California's Judicial Counsel for Coordinated Proceeding ("JCCPs") and Multi-District Litigation ("MDL") procedures and litigation. She has also aggressively worked on sexual assault cases, including Lyft and Uber sexual assault cases.
She has participated in numerous JCCP and MDL proceedings, including: Avandia, Breast Implants, DES, Fen-Phen, Sulzer-Hip Implant, Medtronic-AneuRx, Guidant-Ancure, Zyprexa, Medtronic-Defibrillators, Guidant-Defibrillators, Avandia, Gadolinium-Based Contrast Agents, Byetta, Denture Cream Litigation, DePuy Orthopaedic Hip Implants (ASR and Pinnacle), Actos, Stryker, Rejuvenate and ABGII hip stem systems, Mirena, Pradaxa, Reglan, Seroquel, Transvaginal Mesh (TVM), Testosterone Replacement Therapy (TRT), Talcum Powder Ovarian Cancer, IVC, Viagra/Cialis, JUUL, Lyft, Uber, Zofran, Zyprexa
Ms. Abrams has also participated on numerous MDL and JCCP committees. She was the co-chair of the Science and Expert Committee for the Zyprexa litigation, working extensively with experts in various fields, as well as working cooperatively with numerous attorneys and individuals from law firms across the country (Zyprexa MDL 1596 before the Honorable Jack B. Weinstein).
Rachel Abrams was appointed by U.S. District Judge Cynthia Rufe to the Avandia PSC (MDL 1871) to the Plaintiffs' Steering Committee ("PSC") which consisted of only 12 members nationally. She was appointed by Judge Joseph R. Goodwin of the U.S. District Court for the Southern District of West Virginia to the PSC in all of the TVM litigations (In re: AMS (MDL 2325), Bard (MDL 2187), Coloplast (MDL 2387), Boston Scientific (MDL 2326), Ethicon/Johnson & Johnson (MDL 2327)). She was appointed to the PSC by Judge Cathy Seibel in In Re: Mirena IUD Products Liability Litigation (MDL 2434). She was also appointed by Judge Donovan Frank of the U.S. District Court for the District of Minnesota to the PSC of In Re: Stryker Rejuvenate and ABG II Hip Implant Products Liability Litigation (13-MDL-2441).
Ms. Abrams was appointed by Judge Matthew Kennelly of the U.S. District Court for the Northern District of Illinois to the PSC of In Re: Testosterone Replacement Therapy Products Liability Litigation (MDL 2545). She was appointed as Liaison Counsel In re: Viagra (Sildenafil Citrate) Product Liability Litigation (MDL 2691) by Hon. Richard Seeborg of the Northern District of California. Further, after over 70 attorney applications with oral presentations before Judge Orrick, Ms. Abrams was chosen as 1 of 13 attorneys to be on the JUUL MDL PSC (MDL-2913).
Most recently, Ms. Abrams has been extensively involved in the Uber and Lyft JCCPs (5188 and 5061, respectively). In fact, she is one of the leading attorneys representing rideshare sexual assault survivors and has been quoted in many newspapers and websites, including NPR, Business Insider, The New York Times, The Seattle Times, USA Today, CBS News, CNET, Vice and others.
"Rachel Abrams, a lawyer who represents about 1,000 sexual assault victims in lawsuits against Uber and Lyft, said the report from Lyft was long overdue. 'We've all been waiting for it,' she said. 'They are not implementing the safety measures to prevent this from happening, and it's just going to keep mounting,' Ms. Abrams added. She said "Lyft should incorporate video surveillance in its vehicles to monitor for safety problems."
– (The New York Times – Oct 21, 2021)
"'Most women saw [Lyft's cars adorned with whimsical] pink mustache[s] and thought that's a safer ride home because they said that,' said Rachel Abrams, an attorney who represents about 100 clients suing Lyft. 'They didn't do anything to actually make themselves the safer ride home.'"
– (USA TODAY – Jan 6, 2020)
"99% of these crimes would be prevented if there was a camera."
– (CBS News – Jun 29, 2021)
"Each of these plaintiffs' experiences are horrifyingly unique. But what has not been unique is Lyft's appallingly inadequate response to their trauma."
– (CNET, Jan 21, 2021)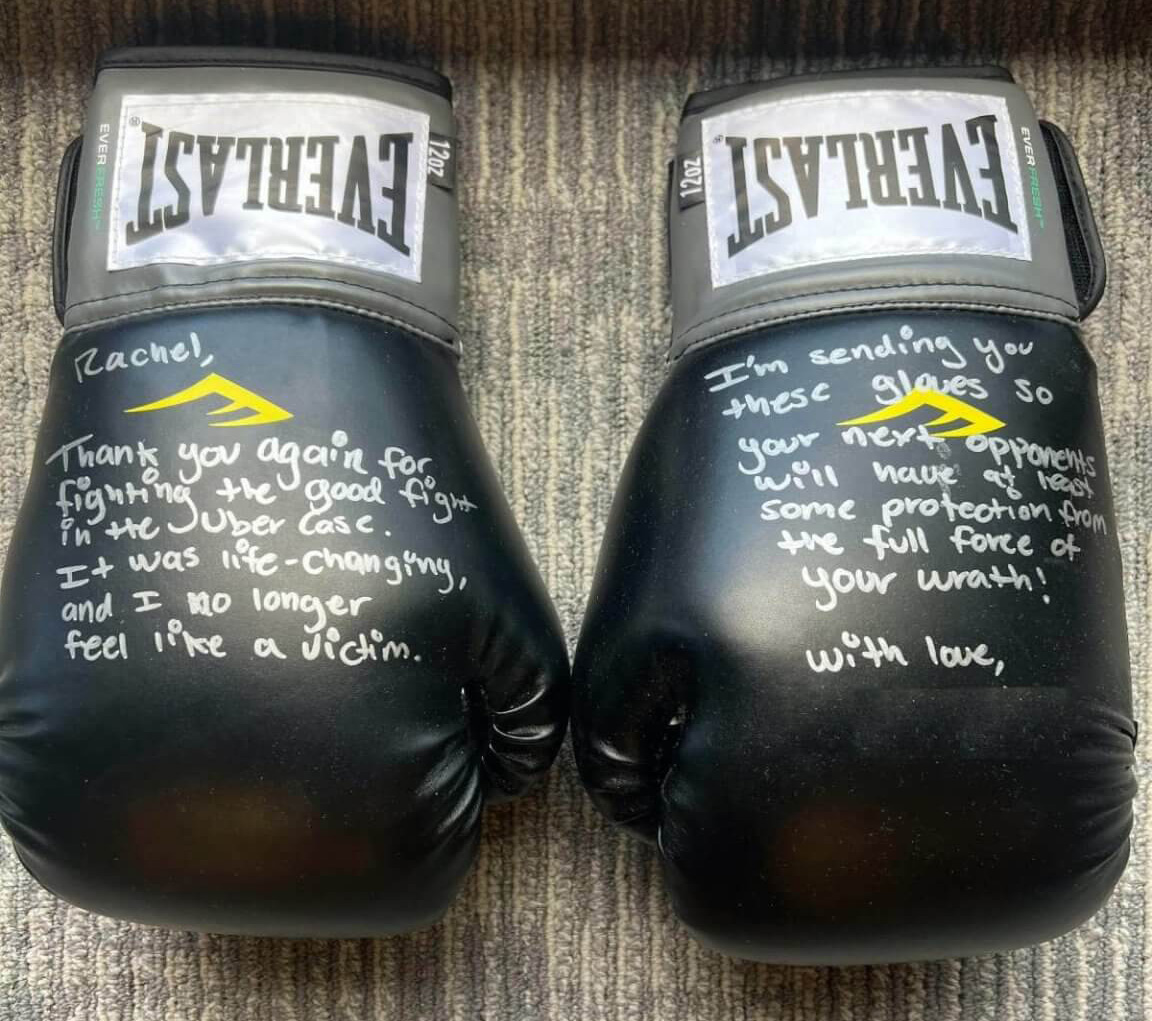 Through all this work, Rachel has developed the knowledge and expertise required to effectively litigate cases. In her numerous roles in consolidated mass tort litigations, she has taken hundreds of depositions, primarily working with experts in various fields. She has prepared and assisted with dozens of trials in both state and federal jurisdictions. Her reputation for working cooperatively with other attorneys is evidenced by her track record in leadership positions in numerous mass tort litigations.
• Rideshare sexual assault
• Sexual abuse and assault claims
• Mass Torts
University of California, Santa Cruz